Supporting black films and shows, shows created by or starring black people, is sometimes a double edged sword. On the one hand, I believe it is a necessity to show support for participants of an industry notorious for shunning and misrepresenting black and brown faces. For instance, black and brown actors and actresses are paid significantly less than their white counterparts. But, on the other hand, there seems to be a zero sum win where those of darker skin get the negative part of that equation.
A recent depiction of colorism can be found in the new recent ABC show, The Mayor, the story of local rapper, Courtney, who ran for mayor of his city as a promotion for his music but unexpectedly wins the election and becomes mayor. The moment I saw the trailer, I was disinterested. Although I love the female supporting actress, Lea Michelle, the feeling I felt watching the show's trailer felt similar to the elephant in the room when the trailer for The Mountain Between Us starring Idris Elba and Kate Winslet played in the theater full of women of color. I was just tired of uplifting and supporting black shows and movies that do not uplift or support those that look like me. Nevertheless, I watched the show for the comedic dialogues between the characters played by Brandon Michael Hall, Lea Michelle, Bernard David Jones, Marcel Spears and Yvette Nicole Brown. In episode 6, Will You Accept This Rose?, like so many shows and movies before, the formula of caring, nice, light skin girl, recently introduced as the Transit Union lawyer in Episode 5, played by Kali Hawk, versus selfish dark skinned girl that threatens the reputation and respect of black men, played by Meagan Tandy as reporter Danielle, was evident. However, I was relieved that despite once again being portrayed negatively, reporter Danielle was seen as not only ambitious but equally desired by the main character Casey and his friends.
Colorism in black media has been discussed time
(Coming To America, 1988)
and time
(Tyler Perry's Diary of a Mad Black Woman, 2005)
and time
(Martin, 1992-1997)
and time again
(The Proud Family, 2001-2005)
These are just the movies and shows I know from memory and the ones where the comparison between dark skin and light skin are blatant. Systematically, the script has remained unchanged for roles of black people, particularly black women, which fall into three categories: Mammy, the dark skinned, heavy-set asexual figure who typically works herself to death while holding the family together best she can
(Gone With The Wind, 1939)
Sapphire, the dark skinned, more muscular, angry woman whose sole purpose is to belittle the black man
(Tyler Perry's Madea's Big Happy Family, 2011)
And, Jezebel, the light-skinned hypersexualized figure typically viewed as the most attractive of the three
(Nicki Minaj, Paper Magazine, 2017)
This mindset has permeated the mind of the black community since slavery days so there is no surprise that the dichotomy between the civilized white skin versus savage dark skin has transferred to classy, gentle light skin or mix race versus ghetto, ratchet dark skin. That is with the assumption that media, whether black or white, even acknowledges dark skin women versus placing the racially ambiguous girl as the representative of all things women of color in a show or film.
Despite the lack of or poor representation of dark skinned black women in media, we have a greatly progressed with shows and movies including: Queen Sugar, Insecure, Scandal, Being Mary Jane, Girlfriends, How to Get Away with Murder, and Girls Trip just to name a few recent shows and movies. Actresses like Tracy Ellis Ross , Yvonne Orji, Lupita Nyong'o, Viola Davis, and to Taraji P. Henson show the diversity in occupation, personality and beauty in black women.
However, there is one role that has me perplexed about the progression of media representation of dark skinned women, the role of the high school mean girl, the bitch.
The term bitch has a similarly complicated history like the term nigga that I will not delve into, and it comes in various connotations. So, I will elaborate. I do not mean the baby mama drama bitch or the ratchet bad bitch or the video hoe bitch. I'm talking about the high school mean girl that we could not stand but we all remember. I am talking about one of my favorite bitches, Regina George from the Lindsay Lohan movie Mean Girls. Regina George was a bitch because her manipulative and controlling nature was encouraged and fueled by the adoration and obsession of others.  She was what many would call the epitome of beauty which is what allowed for her arrogance and confidence. She was the girl everyone hated because she was the one everyone wanted to have or wanted to be. Seriously, who did not want to be Regina George?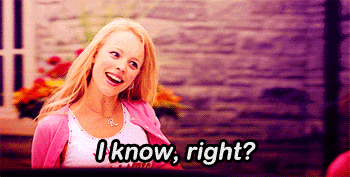 Look at any Disney Channel show or teen movie and this role will be there, typically played by the white blondes, maybe an occasional brunette.
Even while digging into my deepest memories the closest to that role that I remember seeing black girls play is the rule of the mean girl's best friend, the henchman.
HBO's Insecure lead actress and producer, Issa Rae, also tackled the conversation of representation of black people in media, specifically black teens, in a proposal for a black teen drama stating:
"I would like to pitch you a new show about black teenagers. Think 90210 or Gossip Girl for black kids. . .Maybe we call it Ladera Heights 90041. It could be Potomac Maryland 20854. . . . I would definitely have a ho character, always on her ho s**t. Just thirsty. . .No goodie-goodies over here, not in this show. Nobody was watching 90210 for Tori Spelling." Vibes Magazine, 2017
Would placing a dark skinned actress as the role of the mean, popular girl, the bitch, be a step forward in the representation dark skinned women in media or merely perpetuating the light versus dark skin stereotypes? Regardless, to have a dark skinned actress be placed in roles that command such respect, interest and admiration would say a lot to the young black girls who wished there were more shows that represented young girls with their melanin and curls.